Shop Safely
The health and safety of our customers, all employees at Hillcrest and our community will always be our highest priority. Effective July 16, 2021, indoor dining, recreation & entertainment will return to Hillcrest Mall in compliance with Step 3 of the Government of Ontario's Roadmap to Reopening.​
Hillcrest Mall is open Monday-Friday 11am-7pm, Saturday & Sunday 11am – 6pm. All entrances will be open.
​*Store hours may vary from shopping centre hours. Please contact individual stores for any questions. For store contact information HERE
What's Open
A list of Hillcrest Mall

 Store Updates can be found

 

HERE

A list of restaurants and eateries offering takeout & delivery can be found HERE
Select stores are also open for Curbside Pickup

 
Retailers with Modified Hours
*Please check back for continuous updates 
Planning Your Visit
Before arriving, check Hillcrest Mall's real-time Centre Occupancy on our homepage to determine if you should anticipate lineups.​
​
Occupancy information can be found here  and is for your safety, convenience and to help you plan for your visit. Shopping centre capacity is calculated using social distancing guidelines and local regulations.​ The capacity percentage shown on our homepage indicates real-time occupancy of the shopping centre based on the maximum allowable capacity under current Public Health measures.​
​
If you have any questions during operating hours, text us at 226-210-1015
To protect the health and safety of our community, effective July 17, 2020, all persons entering or remaining at Hillcrest Mall shall wear a mask or face covering which covers the nose, mouth and chin as required under the York Region By-Law.
Select stores are not accepting Hillcrest Mall Gift Cards for Curbside Pickup purchases. Please check in advance with the store prior to making your purchase.
Hillcrest Mall's management team works closely with local government and public health throughout this period and will continue to do so. The health and safety of employees, customers and the community at large is our top priority.
Safety Measures
Please review our safety guidelines and additional steps we are taking to keep you, our staff and community safe. Effective July 17, 2020, all persons entering or remaining at Hillcrest Mall shall wear a mask or face covering which covers the nose, mouth and chin as required under the York Region By-Law.
What We're Doing To Keep You Safe:
Increased our cleaning frequency in high-touch and high-traffic areas using best practices and products identified by health organizations

Installed signage to reinforce physical distancing, guide customer traffic flow and hygiene

Placed hand sanitizer stations throughout the shopping centre

Limited capacity in the shopping centre, all elevators and washrooms

Some seating has been removed and clearly marked as out-of-use to maintain physical distance

Water fountains, strollers & Smartecartes are currently not available.
 Please do your part to keep everyone safe: 
Wear a mask or a facial covering

Keep a safe distance 6ft / 2m apart

Cover your sneeze

Wash and/or sanitize your hands often

Stay home if you don't feel well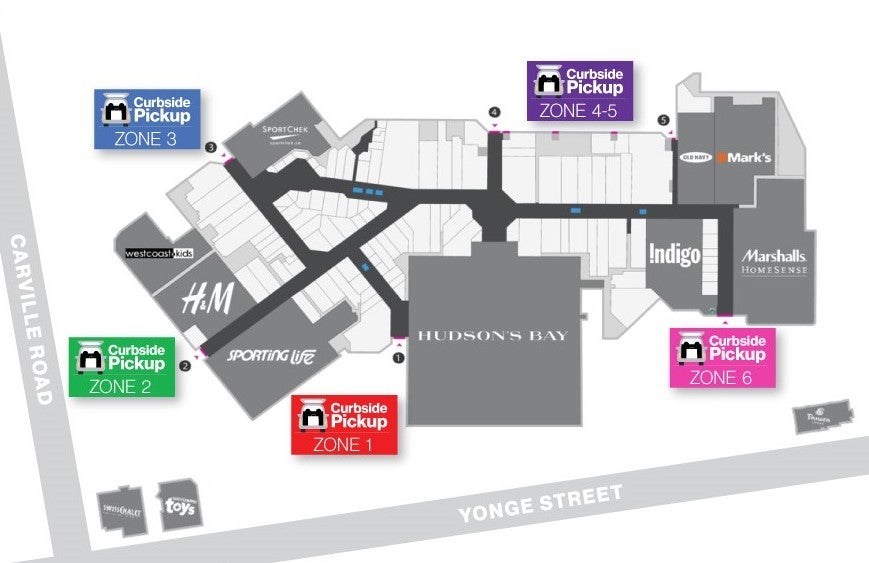 Retailers Offering Curbside
How to use Curbside Pickup:​
To make a purchase, first check the list and make sure the store is offering Curbside or Pickup. Then, contact the individual store by phone or online to confirm operating hours, the availability of the desired merchandise, and payment options to complete your purchase.​
Go to the designated curbside pickup lot
Pull into a designated parking spot, call the store to confirm your arrival & give them your parking spot number. A store employee will deliver the purchase to the backseat or trunk of your vehicle whenever possible.​​
To further protect your safety, and in compliance with the directive from local Government and Public Health, all participating Hillcrest Mall retailers have been instructed that their employees must wear face coverings.​
On behalf of Hillcrest Mall, our retailers and staff, we appreciate your understanding and cooperation with this process.
For a list of all stores participating in curbside, please click here.
Please contact each retailer for operating hours.
Need to redeem a gift card code?
To book an appointment to redeem a gift card code, please call Guest Experience at 905-883-1400. Available through Curbside Pickup only.