Hours & Services
DAILY OPERATING HOURS:
MONDAY – SATURDAY: 10am – 8pm
SUNDAY: 11am – 7pm
EXTENDED HOLIDAY HOURS BEGIN: Friday, December 1st, 2023
MONDAY – SATURDAY: 10am – 9pm
SUNDAY: 11:00am – 8:00pm
*PLEASE NOTE: Individual store hours may vary. Please contact stores directly or Guest Experience (905-883-1400) for details.
HOLIDAY KEY DATES
Black Friday: November 24, 9:00am – 9:00pm
Christmas Eve: December 24, 9:00am – 6:00pm
Christmas Day: December 25, CLOSED
Boxing Day: December 26, 9:00am – 8:00pm
New Year's Eve: December 31, 10:00am – 6:00pm
New Year's Day: January 1, 11:00am – 6:00pm
Regular shopping hours will resume on January 2, 2024.
Monday – Saturday: 10:00am – 8:00pm
Sunday: 11:00am – 7:00pm
Gift Cards
HOLIDAY GIFTING
Let them find what they love this Holiday season with a Hillcrest Mall gift card!
Shop in Mall
Purchase your gift card in person at the Guest Services Desk or at one of our automated Gift Card machines located throughout the centre. View Map
eGift Card
Enjoy the convenience of purchasing at home and gifting instantly using our new eGift Cards. Recipients will receive an email or SMS with a barcode to redeem at the Guest Services Desk or at one of our automated Gift Card machines located throughout the centre. Buy Now
Group Gifting
Send an eGift Card as a group for any occasion. We make it easy to invite friends, family, and colleagues to contribute. Start a Group Gift
Corporate e Gifting
Reward your employees or thank your customers instantly with eGift Cards. Enjoy the convenience of buying eGift Cards in bulk and have them delivered to your recipients via email. Order Now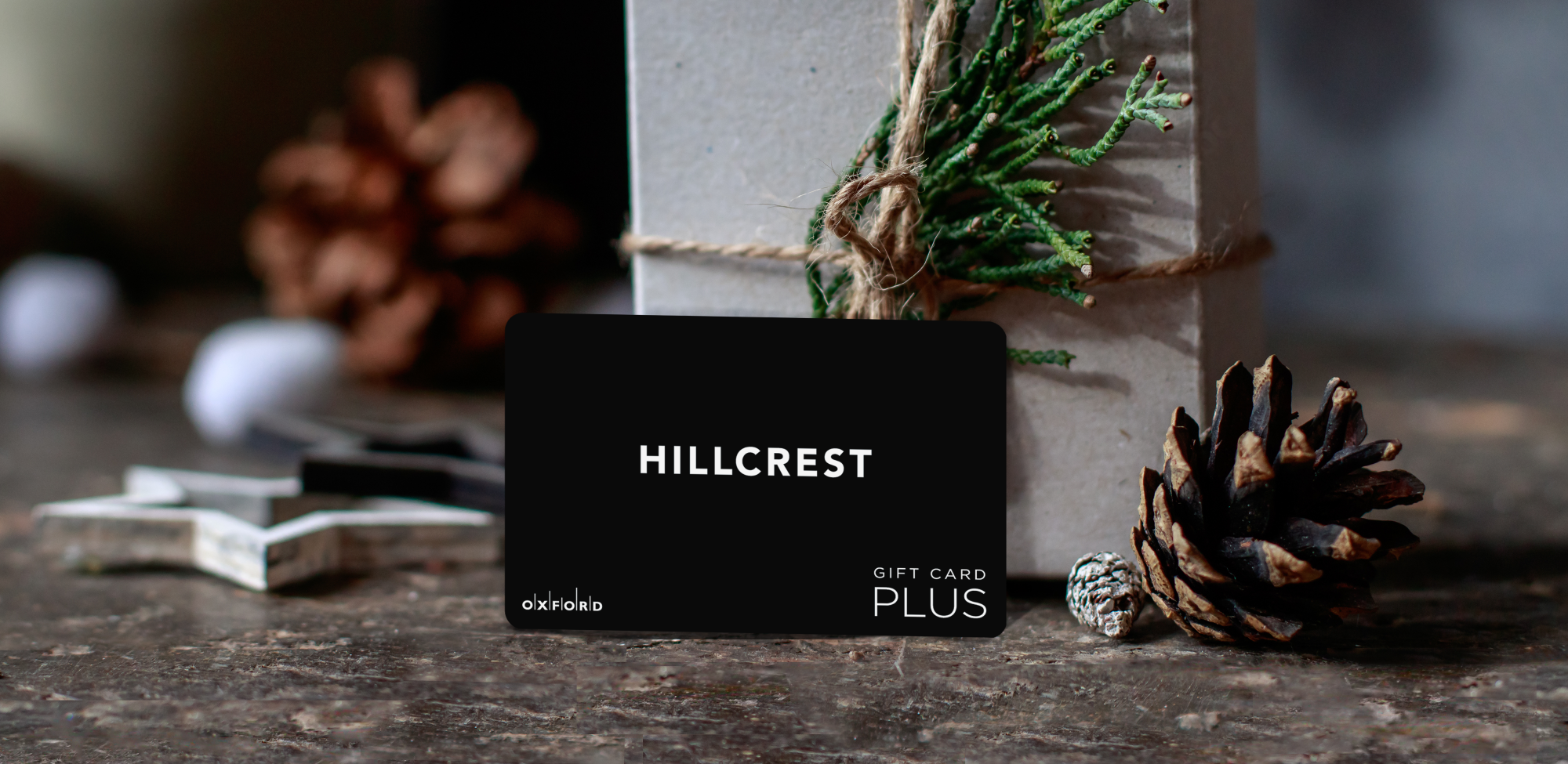 Santa Returns to Hillcrest
Santa
Extended magic, focused experience. Santa arrives December 14th. This year, Santa will only be at Hillcrest for a limited time, so book your spot now! Walkups are not guaranteed, and are only offered on availability and on a first come first served basis.
Pets with Paws

Furry friends are invited to have their photos taken with Santa and experience the magic of the Holidays at Pets with Paws. Bring your fluffiest friends to Hillcrest Mall to see Mr. Claus in support of OSPCA. All pets with paws are welcome!
Please note only service animals are permitted in the centre during mall hours.
Pets with Paws
Hours of Operation
Thursday, December 14th & 21st from 6:00pm – 8:00pm
FAQs and Support
What if I need to reschedule or cancel?
Your reservation is non refundable. However if you need to reschedule, you can do so by following the information on your reservation confirmation email. Your appointment must be rescheduled prior to your scheduled reservation time.
Where is my reservation confirmation?
After booking your visit with Santa, you will receive a confirmation email with your reservation details. Please check your junk or spam email folders if you don't see an email. For customer/booking support, please contact Santaphotosoxford@gmail.com
For any issues regarding the booking site, please contact: santaphotosoxford@gmail.com
Pet Night FAQs
DISCLAIMER
Please keep in mind that there may be other pets present during your time slot, and we kindly request your cooperation in maintaining a comfortable environment for everyone. While we strive to have each session as stress-free as possible, due to the public setting, it may not always be feasible.
We encourage all pet owners to arrive as close to their schedule time slot as possible to minimize interactions with other pets. To ensure the safety and comfort of all animals, please leash or safely contain your pets until your session begins, and follow guidance provided by Santa's team.
PET GUIDELINES
Please enter and exit through Entrance 4.
All pets must be on a leash, in a pet carrier or held by the owner at all times.
Owners must immediately clean any "messes".
All animals must be current on vaccinations.
Aggressive/dangerous animals are not permitted.
Santa set staff, mall management and security have the discretion to turn way animals if they do not fit the above guidelines or appear aggressive towards people or other animals.

Post Office Popup
Embark on a transformative holiday adventure, setting new standards of joy and family commitment. Connect with loved ones through the power of postcards at Hillcrest holiday post office! Choose a postcard or greeting card to write a letter to grandma, grandpa, aunts, uncles, old friends or Santa himself!
Dates & times
12PM-7PM
Thursday November 16 to Sunday November 19
Thursday November 23 to Sunday November 26
Thursday November 30 to Sunday December 3
Thursday December 7 to Sunday December 10
Thursday - Sunday12:00 PM - 07:00 PM
Monday - WednesdayClosed
Richmond Hill Public Library Storytime & Crafts
Richmond Hill Public Library and Hillcrest invite you to take your imagination to the next level with our holiday programs. Visit Centre Court to explore popular holiday stories, tinker with tech, and build crafts together during a series of interactive programs designed for caregivers and children.
Happy Holiday Stories
November 27th, 10:30AM-12PM
Gather around for holiday stories new and old! We'll read A World of Cookies for Santa and Frosty the Snowman. Then, we'll help children and caregivers to make their very own snowman to take home.
Tinkering in the North Pole
December 4th, 10:30AM-12PM
Use your imagination and create some fun! Explore our STEAM kits with your child and invent a unique toy with LEGO Duplo.
Snow Much Fun
December 11th, 10:30AM-12PM
Guess animal footprints as we read the fun and engaging Best in Snow and Footprints in the Snow. Then, explore how to make winter animals together with Origami Canada.
All Aboard the Polar Express!
December 18th, 10:30AM-12PM
All aboard! Explore your engineer side and discover things that move with our STEAM kits. Create your own Polar Express train, too.
Monday10:30 AM - 12:00 PM
Tuesday - SundayClosed
Holidays Workshops
Visit our workshops, bring holidays vibes, and enjoy doing interactive activities with some of our retailers.
Tan Mujiang November 20th, 3PM-5PM Join us in center court to customize your very own high quality comb. Keep for yourself, or use as a personalized holiday present! While quantities last, first come first served.
Blossom Moments Get into the festive spirit and learn how to create stunning centerpieces for your holiday table. Our talented instructors will guide you through the process, providing expert tips and tricks. Whether you're a beginner or an experienced DIY enthusiast, this workshop is perfect for everyone. Bring your friends or come solo, and enjoy a delightful afternoon of crafting and laughter. Don't miss out on this opportunity to add a personal touch to your holiday celebrations. Spots are limited so reserve now and let your creativity bloom!
November 22nd, 12PM-2PM – Click here to sign up
November 29th, 12PM-2PM – Click here to sign up
Gift Wrapping
Starting December 4th, our Holiday Gift Wrapping will be hosted by CHATS, a not-for-profit organization, advocating for and delivering high-quality, person-centred home and community services to older adults and caregivers living in York Region and South Simcoe. Join us as we wrap presents with love and care, spreading holiday joy to those in need through this meaningful charitable endeavor.
SPECIAL HOURS:
December 4, 5, 6: 12PM-4PM December 7 & 8: 12PM-9PM Remaining days will be open during mall hours.
Monday - Wednesday12:00 PM - 04:00 PM
Thursday and Friday12:00 PM - 09:00 PM
Saturday and SundayClosed

Salvation Army Kettle Bells
We are welcoming back the Salvation Army and their iconic kettles and red shield into the center, stationed between The Body Shop and The Gap.
Monday - Saturday10:00 AM - 09:00 PM
Sunday11:00 AM - 08:00 PM

Christmas Tree Market
The Christmas Tree Market is back! Located in the south west corner of the parking lot, families are welcomed to continue the tradition and pick up their Christmas Tree to kick start their holiday celebrations. 
Monday - Saturday10:00 AM - 09:00 PM
Sunday11:00 AM - 08:00 PM

CHATS Holiday Donation Drive
From December 1-21, drop off new clothing, personal items and more to benefit CHATS Community & Home Assistance to Seniors.
CHATS Community & Home Assistance to Seniors
 is a not-for-profit organization, advocating for and delivering high-quality, person-centred home and community services to older adults and caregivers living in York Region and South Simcoe. Drop off donations at Guest Experience booth located by Entrance 4.
Monday - Thursday11:00 AM - 07:00 PM
Friday and Saturday11:00 AM - 08:00 PM
Sunday12:00 PM - 06:00 PM
Store Offers
Enjoy the best deals and offers during this holiday season. Check our Store Offers page for this year's specials.